Poly Aluminium Chloride PAC For Waste Water Treatment
Product Detail
Product Tags
Polyaluminium Chloride PAC is mainly used as the flocculating agent for the treatment of drinking water and industrial waste water(such as oil waste water, printing and dyeing water and pulping waste water), and it is also applied in the treatment of high toxicity heavy metal and F-containing waste water; Morever, it is also widely applied in precise casting, paper-making, tanning and other industries.

Polyaluminium chloride (PAC) for waste water treatment
| | |
| --- | --- |
| Test Items | Specification |
| Aluminum Oxide(AL2O3) | 28 min |
| Basicity | 30-90% |
| PH value 1% aqueous solution | 3.0-5.0 |
| Water insoluble matter | 1.5% max |
| Fe Content | 5% max |
| As Content | 0.0015% max |
| Pb Content | 0.006% max |
Applications
Urban drainage purification: river water, reservoir water, groundwater.
Municipal Wastewater Treatment
Industrial wastewater treatment: dyeing wastewater, leather wastewater, wastewater containing fluoride, heavy metal waste water, wastewater, wastewater, coal washing wastewater, mine drainage, brewing wastewater, metallurgy wastewater, meat processing wastewater, sewage treatment.
Industrial wastewater and waste metal materials recycling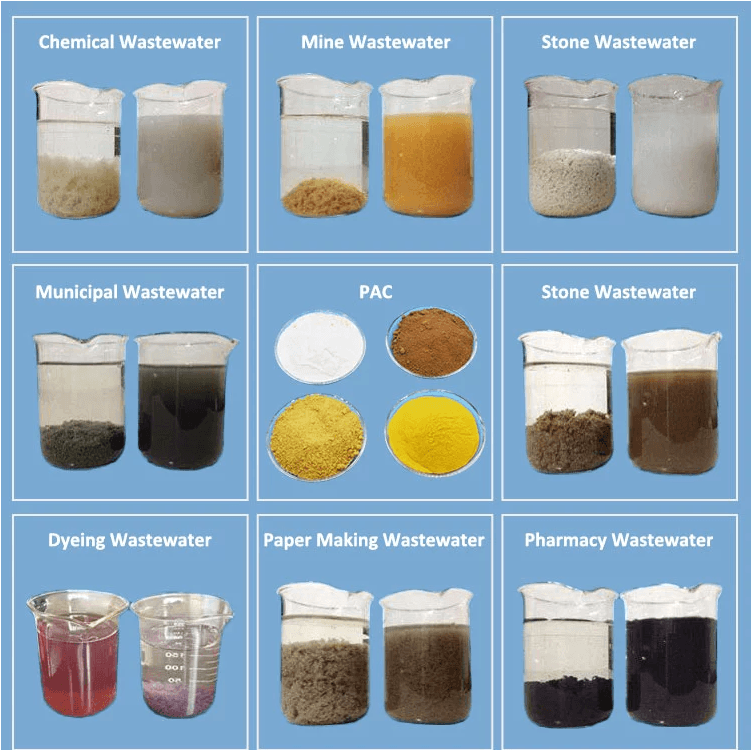 Packages & Delivery:
PAC for industrial water: 25KG net weight woven bags, 25MT max per 20 feet container loading.
Product Advantages:
1). Flocculation ability, high adsorption activity, floc formation and deposition of fast.
2). Without alkali and other additives, PH broad in scope, ease of use; for low-temperature, low turbidity, low alkalinity of the raw water is also good flocculation.
3). Easy to use and good effective.
Storage: The products shall be sealed and stored in the dry and ventilated place to prevent from rain, high temperature and strong sunlight.
Application method:
The liquid product can be used directly or used after dilution.
Dilution is necessary before used for the solid product. The normal dilution ratio for the solid product is 5%-15%.
---
Previous:
Liquid Aluminium Sulfate
---