Poly Aluminum chloride PAC Domin Vata Ruwa Jiyya
samfurin Detail
samfurin Tags
Polyaluminium chloride PAC is mainly used as the flocculating agent for the treatment of drinking water and industrial waste water(such as oil waste water, printing and dyeing water and pulping waste water), and it is also applied in the treatment of high toxicity heavy metal and F-containing waste water; Morever, it is also widely applied in precise casting, paper-making, tanning and other industries.

Polyaluminium chloride (PAC) for waste water treatment
| | |
| --- | --- |
| Test Items | Musammantawa |
| Aluminum oxide (AL2O3) | 28 min |
| Basicity | 30-90% |
| PH darajar 1% ruwa-ruwa bayani | 3.0-5.0 |
| Ruwa insoluble al'amarin | 1.5% max |
| Fe Content | 5% max |
| kamar yadda Content | 0,0015% max |
| Pb Content | 0,006% max |
Aikace-aikace
Urban magudanun ruwa tsarkakewa: kogin ruwa, tafki ruwa, ruwan karkashin kasa.
Municipal ruwa mai guba Jiyya
Industrial ruwa mai guba jiyya: rini ruwa mai guba, fata ruwa mai guba, ruwa mai guba dauke da fluoride, nauyi karfe sharar gida da ruwa, ruwa mai guba, ruwa mai guba, kwal wanka ruwa mai guba, mine magudanun ruwa, Brewing ruwa mai guba, metallurgy ruwa mai guba, nama aiki ruwa mai guba, najasa magani.
Industrial ruwa mai guba da sharar gida karfe kayan sake amfani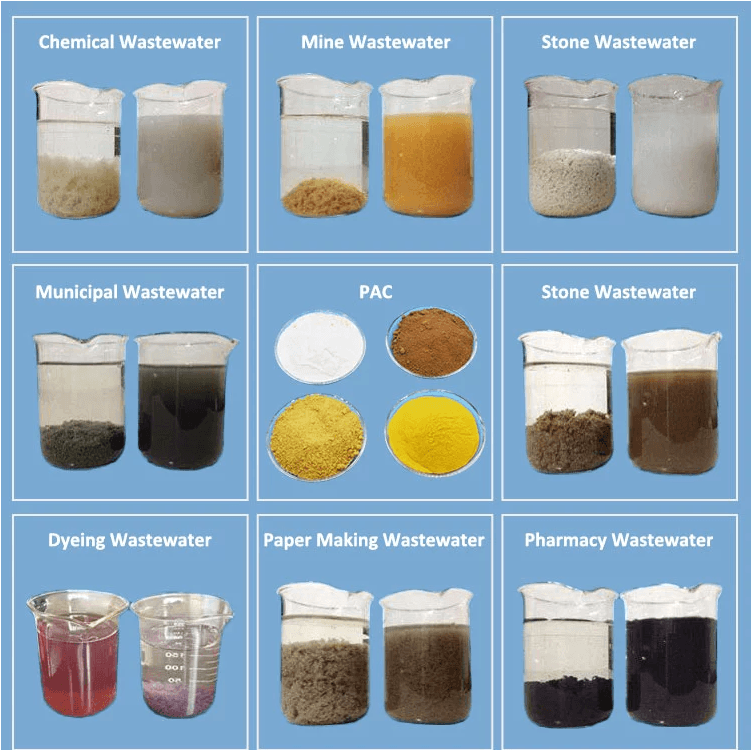 Kunshe-kunshe & Bayarwa:
PAC ga masana'antu ruwa: 25KG net nauyi saka bags, 25MT max da 20 feet ganga loading.
Samfurin abũbuwan amfãni:
1). Flocculation ikon, high adsorption aiki, floc samuwar kuma shaida na sauri.
2). Ba tare da Alkali da kuma sauran Additives, PH m in ikon yinsa, sauƙi na amfani. don low-zazzabi, low turbidity, low alkalinity na raw ruwa ne ma mai kyau flocculation.
3). Easy don amfani da kyau tasiri.
Storage: The kayayyakin za a iya shãfe haske da kuma adana a cikin bushe da ventilated wuri su hana daga ruwan sama, high zafin jiki da kuma karfi hasken rana.
Aikace-aikace Hanyar:
The ruwa samfurin za a iya amfani da kai tsaye, ko kuma amfani da bayan dilution.
Dilution wajibi ne kafin amfani ga m samfurin. A al'ada dilution rabo ga m samfurin ne 5% -15%.
---
Previous:
Liquid Aluminum sulfate
---